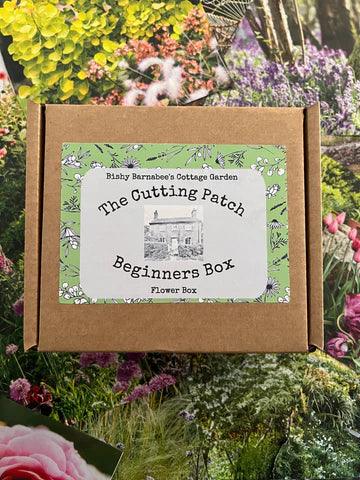 Things to keep you going on grey days
Melanie Purcell
Well, the weather this week could only be described as grey and dismal with a bit of rain thrown in for good measure ☔️ 
The sort of week where everything seems monotonous and dull. Christmas is far behind us and spring is so far away. 
But.....getting outside and having a walk about showed me that nature is stirring and the magic is starting to happen 🌟 

I took a wander in the garden....at first glance everything was dead, dull, sad and muddy but after a little while I started to see all sorts of lovely things happening. 

The first little snowdrops have shyly revealed themselves and the viburnum and winter honeysuckle are in full and scented flower 🌸  

 
And there is more good news! 😂
This week I launched two gorgeous new boxes of seeds 🎁 
 

The first is 'The Cutting Patch...Beginners Box' and this one is for anyone new to gardening and/or just feeling overwhelmed by the sheer array of flower seeds on offer  

It's for people who would love to create their own cut garden (and you definitely don't need a big space to do this, a small patch will do) but don't know where to start 

Especially chosen for ease and reliability this is a fantastic selection of 8 flower seed packets which will help you create a patch of flowery happiness 💐
The second box is called 'The Spring Seed Sowing Flower Box' and is quite self-explanatory really 🤩

It contains 10 gorgeous varieties of spring sown seeds which will give you a wonderful mixture of flowers and foliage to create your own stunning arrangements of flowers for your house it to gift to lucky friends and family  

If you are on Instagram and would like to learn more about the box of seeds I joined  @garden_goddess_uk on her LIVE chat yesterday to show and talk all about it.....so do take a look 👀 

 
And finally an update on the chillies 🌶️ 
Everything is germinating and growing amazingly well 🙌🏼
We are super pleased with the Rock Wool so far (see previous blog for description) as everything seems really happy and it's also handy and reassuring to be able to see when the seeds first begin to sprout within their cubes rather than having to wait until they appear above the surface
We've got several chilli varieties now with their first true leaves and have started to give those ones a weekly feed of a seedling nutrient formula.....so far so good!
This week we have sown Hainan Yellow Lantern, Pimenta Puma, Rawit and Nai Miris. This last one is a Sri Lankan Scotch Bonnet 🌶️
So despite the rain, the clouds and the cold there is plenty to be thankful for......but for me spring can't come soon enough! 


Wishing you a happy week ahead,
Melanie 🐞